Genuine Marine-THALASSA Marine ABS Plastic Sea Water Filter for Boat Yacht Accessories
Specifications:
Product Name: Seawater filter
Material:ABS
Introduction of sea water filter
Seawater filter is a filter directly filter water suspended solids, particles and other impurities with a filter net, to reduce dirt, bacteria algae, rust, etc.
In a pipe system, in this way to protect the pipe system and equipment and make them work properly.
Large sea water filter
D1: Diameter 25.4MM, connect with 25MM hose
D2: Diameter 31.8MM, connect with 32MM hose
D3: diameter 38.1MM, connect with 38MM hose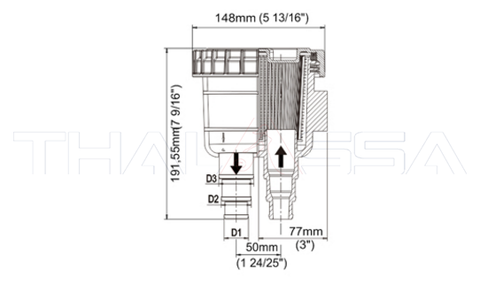 Small sea water filter
D1: Diameter 12.7MM, connect with 13MM hose
D2: Diameter 15.9MM, connect with 16MM hose
D3: 19.1MM diameter, connected to 19MM hose
What are the advantages of sea water filter ?
✔Allow multiple intake hose sizes
✔The transparent cover allows easy inspection of the filter without having to disassemble or stop the flow.
✔The larger surface area reduces the frequency of cleaning.
✔Applications also include bilge pump filters and flush kit filters
Applicable scenarios: Engines, Generators, Water generators, Hydraulic coolers.

Please Know: Check out the dimension image and make sure it fits your application. Thank you!
---
We Also Recommend
---